DISCOVER THE REAL KABAB AND SHAWARMA
Sandwich
upgrade to a combo with fries and a can of pop for an extra $5.00
lettuce, tomato, cucumber, mint, parsley, bell peppers, topped with fried pita bread, served with sumac and oregano dressing
parsley, tomato, onion, bulgur, lemon dressing
[ess_grid alias="masonry"]
ElFino Kabab and Shawarma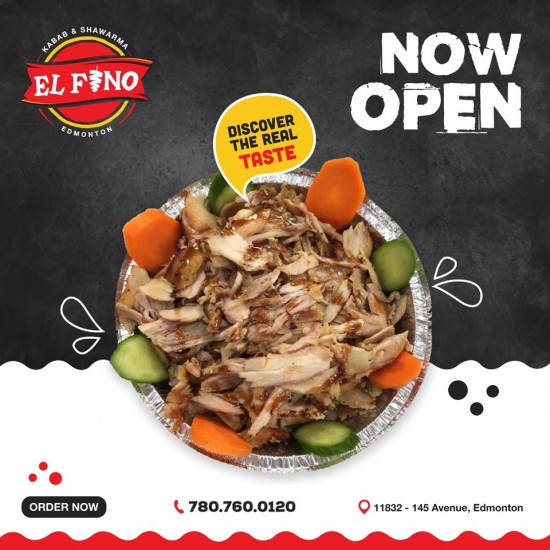 Welcome to El Fino! Edmonton's newest kebab and shawarma restaurant, now open and proudly ready to serve our customers. Be sure to follow us for regular posts about specials, menu items, and more! Come visit us at 11832 145 Ave NW, or call in your order at 780-760-0120. We hope to satisfy your hunger soon!
We went here today for their grand opening. We ordered grilled kaftan meal, chicken shawarma and flatoush salad. The chicken shawarma is the best I've ever had – So delicious!! My daughter loved her rice and kafta- we'll definitely be going back!
Great taste and very welcoming service. The best Elfino sandwich. Definitely will be going back with the family and would recommend it anytime.
Worth a visit, If you want to try a place in Edmonton that has the authentic Syrian food.. Best Mix grill ever. the charcoal bbq and shawerma is very tasty and amazing. Keep it up guys.. Good luck Highly recommend
Excellent service, the food is delicious especially Shawarma. I recommend it to anyone who loves Mediterranean food.